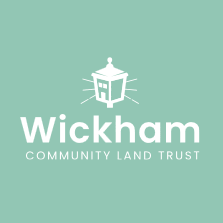 Wickham Community Land Trust
Wykeham Vale
Our Wykeham Vale homes are all rented properties.
Summary of our provision
WCLT-controlled since
May 2022
Contact for further information
See our Contact us page.
Local authority district
Winchester City Council
Council Tax Band
To be confirmed
Building design standards met

Energy Performance Certificate with B rating.
Properties built to wheelchair accessible or adaptable standards.

Parking spaces
2 per house
1 per flat
Category of tenure
Affordable rent.
Allocation criteria

Housing need
Ability to afford rent
Right to rent in UK
Requirement of the applicant for accommodation of the type available
Local connection with the civil parish of Wickham and Knowle, or other rural parish in Winchester City Council area
For full details please see our: Application Guidance for completing the application form and the Application Form itself.

Range of properties

1 one bed (2 person) flat
3 two bed (3 person) houses
1 three bed (4 person) house

Address of properties
Partridge Way, Wykeham Vale, Wickham, Hampshire, PO17 6BQ
Total properties
5 (from May 2022); 5 more later.
Properties for affordable rent

No 11 first floor flat 1 bedroom (2 person, 55m² excluding ground floor entrance), with covered car parking space
No 15 house 3 bedroom (5 person), with garden
Nos 17, 19 & 21 house 2 bedroom (4 person), with garden.