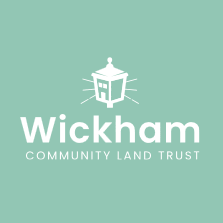 Wickham Community Land Trust
Older news
Wild Flowers and Yellow Lines
Our annual residents' meeting took place on Wednesday 30 October 2019. Thanks to all the residents who attended. We had a good discussion on all Houghton Gardens topics and other related matters, including:
continuing issues with Houghton Way, including yellow lines
encouraging wildlife through wildflower planting
over-enthusiastic weed-killing by the contractors
ongoing hedge planting
noisy gatherings in the surgery car park.
We conclude that the year has generally gone well with no major issues or concerns.

Residents heard that, although for the first time WCLT had made a loss in 2018/19, this was actually good news as it reflected the legal and financial fees paid for changing our loans to a lower interest rate which will significantly reduce our operating costs in the future. We remain in a good financial position.

The service charges statements were handed out (residents who were not present will get copies hand delivered). Unfortunately, we haven't yet received the Hyde charges for estate maintenance for 2018/19, so we don't know whether the sums we are collecting this year will need to be topped up or reduced in 2020/21.
Residents Parking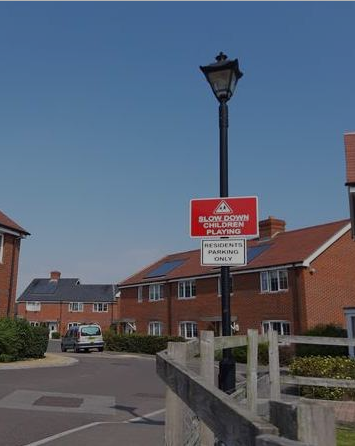 As part of a review of living conditions in Houghton Gardens, and in consultation with residents, a parking restriction notice has been placed on a lamp standard at the road entrance.

Everybody is keen to prevent the street from being considered as overflow parking by the general public when the nearby Wickham Community Centre is at its busiest.
Abide In Me
A photo of Houghton Gardens taken by Judy Lucas features in Abide in Me — just published by Caritas looking at promoting Catholic Church involvement in housing for those in need. For more information go to Abide in Me.
Hampshire Community Housing Partnership
We are pleased to say that Wickham CLT has been invited to join the Hampshire Community Housing Partnership. This brings together several Hampshire District Councils and interested organisations and promotes community housing in Hampshire, including Community Land Trusts. It is run by Community Action Hampshire. If you would like to know more about the support available for all forms of community housing contact 01962 857387 or go to: Community Action Hampshire.
From Kent to the New Forest via Leatherhead and Chichester
Wickham CLT has been invited to speak at a variety of community housing events in 2018. On 19 and 21 February, we were invited by Surrey Community Action to speak at Community Housing events in Guildford and Leatherhead attended by groups and Councils from across Surrey. On 21 April, we spoke at a lively and packed public meeting launching a possible Hale CLT in the New Forest and at Martin Parish Council (again in the New Forest) on 21 May. We also supported initial discussions about a Portsmouth CLT in April. On 22 October, we were in West Kent talking to about community-led housing there too.
Finally, following our initial meeting in 2015 with Chichester Council to talk about developing CLTs, we were invited back on 29 November to speak to their developing community housing network. On the same day we returned to Tandridge in Surrey at the invitation of Surrey Community Action.
It is highly gratifying to see so much interest in developing community land trusts and we are very pleased to share what knowledge and expertise we have gained along the way, and to learn more from others too.
New Housing
Soon a number of new developments in and around the villages of Knowle and Wickham will include affordable homes (2 and 3 bedrooms) for local people who cannot afford open market prices. Some of these homes will be offered on a Shared Ownership basis. This scheme enables would-be homeowners to purchase part of the equity (typically 50%) while the Land Trust retains ownership of the remaining equity. Mortgages for such Shared Ownership arrangements are therefore considerably more affordable than if you owned the home outright.
If you are interested, please write to:
Wickham Community Land Trust Ltd., PO Box 739, Wickham, PO14 9RH
Or e-mail:
New Resident at Houghton Gardens
A new,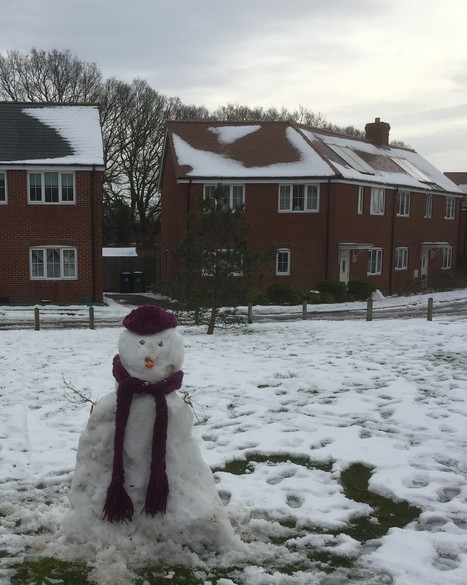 if temporary, resident moved in at the beginning of March 2018.

In Hampshire, it is very rare to be able to use snow in this way but, we assume, several local residents made good use of this opportunity.
Consultation on New Homes and Public Open Space at Knowle
An exhibition and consultation event regarding a proposal for new housing at Knowle that also releases community open space in the water meadows between Wickham and Knowle was held at Knowle Village Hall on Fri 2 Feb 2018.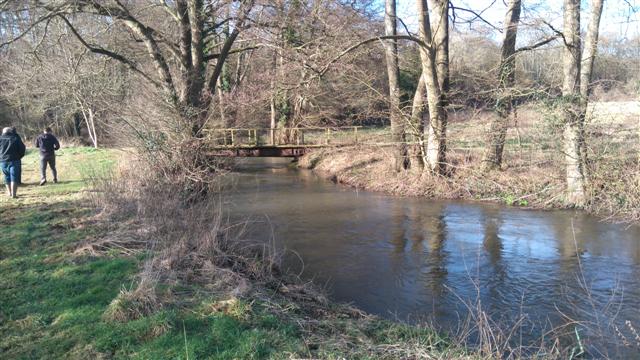 Residents of Knowle and Wickham visited the proposed development site and the water meadows by the River Meon. Wickham CLT trustees attended on both days as WCLT has been invited by Homes England and Winchester City Council to be a potential provider of affordable homes for local people on the site.

Please click here to see a map and more information.
Hampshire Rural Housing Conference In Wickham
In July 2017, Wickham CLT put on a display and spoke at the Hampshire Alliance for Rural Affordable Housing (HARAH) Rural Housing Conference held at Wickham Community Centre and delegates visited Houghton Gardens and one of our properties to talk to our residents.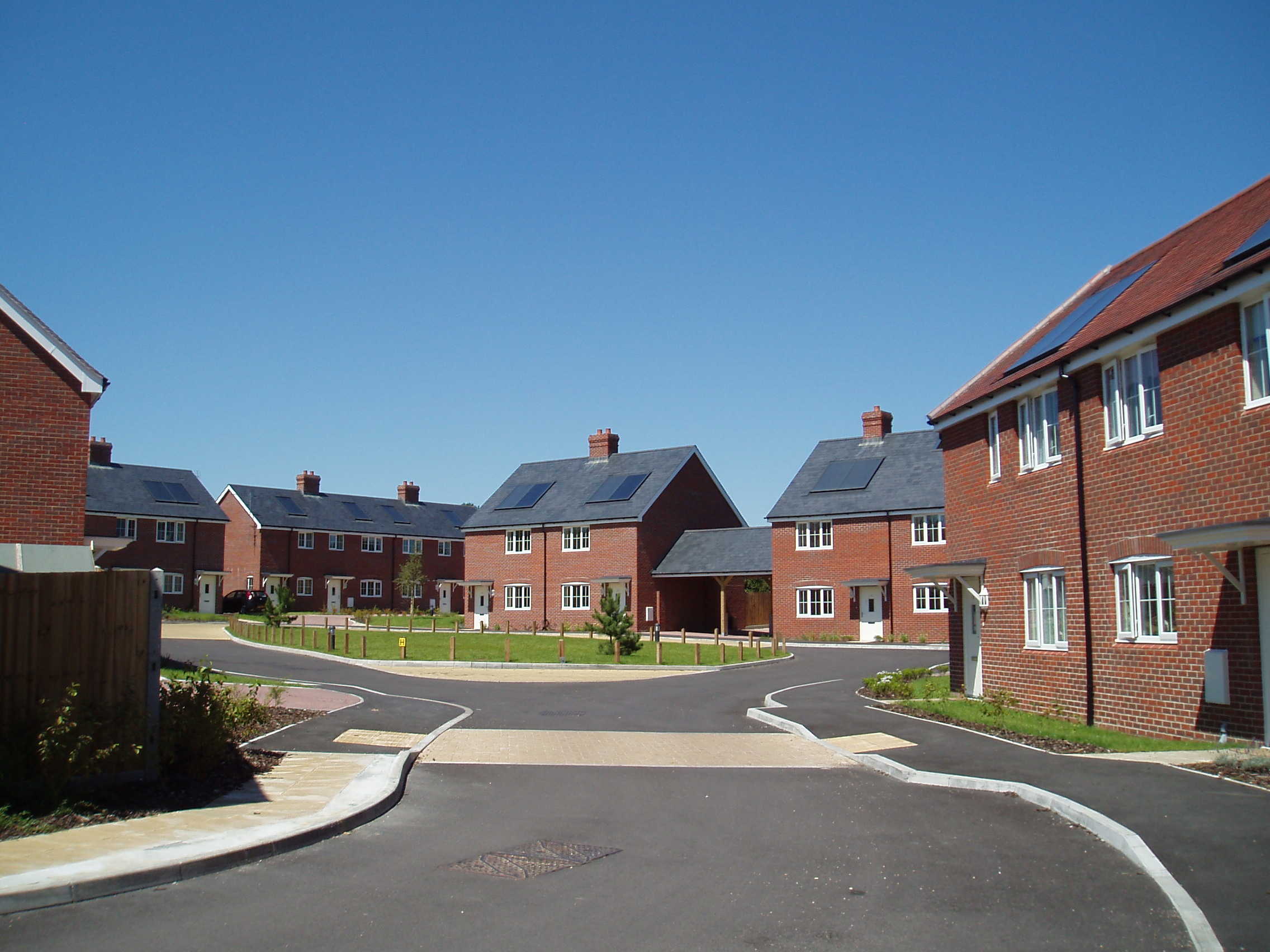 New Forest Parish Councils
In June 2017, two New Forest Parish Councils, interested in Community Land Trusts, visited Wickham CLT.
New Publicity Boards For Wickham CLT
In March 2017, thanks to a grant from Cllr Stallard (Hampshire County Council), and the hard work of our Committee member Chris Cook, we updated our publicity boards, including the addition of two pull up banners and purchased a set of display boards and a table.
Surrey Hills CLT
In January 2017, Surrey Hills CLT visited us to look at the practicalities of developing a Community Land Trust.
Abbots Ann Parish Council Presentation
In October 2016, two WCLT Committee members spoke at Abbotts Ann Parish Council about our project, following their earlier visit in 2015. The Parish Council agreed to explore the possibility of establishing a CLT locally on land that they own.
Forced Sale Of Community Land Trust Properties Averted
In 2015, the Government announced plans to force charitable organisations registered with the Homes and Communities Agency (now called Homes England) to sell their properties to tenants. This would extend existing "right to buy" legislation.
Wickham CLT joined a vigorous campaign by the National Community Land Trust movement to revise a policy that would destroy the purpose of Community Land Trusts by selling off affordable homes in communities already under housing pressure.
WCLT trustees travelled to London to lobby supportive MPs and Lords of all parties and met George Hollingbery, our local MP, in January 2016.
The campaign was successful and CLTs were recognised as organisations that would not have to participate in what is now being piloted as a voluntary scheme.
Chichester City Council
In August 2015, Wickham CLT hosted a meeting with Chichester City Council to help them explore the possibility of supporting Community Land Trusts in their area.
Abbots Ann Parish Council Visitors
In February 2015, Wickham CLT hosted a visit by Abbots Ann Parish Council Members interested in possibly developing a Community Land Trust.
Full Occupation
With the handing over of the keys of our last-available shared ownership house on Fri 19 Jul 2013, Wickham Community Land Trust achieved its aim of full occupancy of all 8 of its properties.
2013 Awards
Wickham Community Land Trust was a finalist at two separate award ceremonies in 2013:
Charity Bank Awards 2013




National Community Land Trust Awards 2013 Wickham CLT was a finalist in the "Most Entrepreneurial CLT" category.
Wickham Community Land Trust cherishes its prizes:
8 homes for local people in perpetuity
We are pleased to report that, on Mon 6 Aug 2012, Wickham Community Land Trust bought eight homes in Houghton Gardens, Wickham.
The first tenants of the Trust moved in within days. Thus, we completed the first chapter of the Trust's history of service to the community of Wickham. It took seven years of dedication and hard work. Now we can offer our homes to local people who cannot afford to rent or buy local private housing or do not qualify for affordable homes through a housing association.
Recently, our first project has been the subject of a Parity Trust Video.


Four of the Trust's homes are designated for rental and four are for shared ownership. In the latter category the occupant obtains 50% of the equity value of the home while the CLT retains the remaining 50%. Shared ownership residents can never obtain more than 80%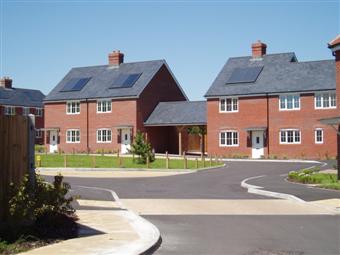 of the equity so we are able to retain the use of all the homes for local people, at affordable cost, in perpetuity. To keep the homes local, there is a rigorous screening process.


Our purchase of homes will help to sustain a balanced and thriving community in Wickham. We wish all our residents a happy time in their homes and we thank them for their patience during our long-winded purchase.

Thanks
All credit for the purchase is owed to the Trustees, particularly to Judy Lucas, Secretary to the Trust, who has been responsible for producing all the Trust's policies and the detailed legal documentation — creating WCLT has necessitated a mountain of paperwork. Finally, we wish to thank all those who have helped us along the way:

managers at Hyde Group for such a supportive development partnership
the National CLT Network for giving access to experience of other Land Trust projects
officers at Winchester City Council for their practical support and encouragement
the Anglican Diocese of Portsmouth for crucial seed-funding for the project
the CLT Fund administered by Venturesome (a branch of the Charities Aid Foundation) for pre-development and development loans
Homes England (formerly The Homes & Communities Agency (HCA)), Parity Trust, Charity Bank, Winchester City Council and the Hyde Group for longer-term funding
our local District and Parish Councillors for supporting our case when we needed their support
most particularly, those long-time residents of Wickham who pointed out to us in 2004 the need for these homes and for a new approach to their provision
most recently, our very grateful thanks to those local people who have made generous donations to the Trust, so vital in providing much-needed cash.
Queries
If you have any questions, please do not hesitate to contact us.